Chris Hurst Bio, Age, Wife, Salary, Net Worth, Political Career, Bills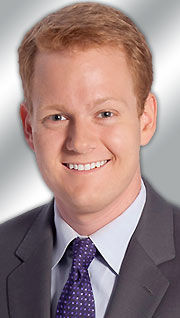 Chris Hurst Biography
Chris Hurst is an American politician of the Democratic Party currently serving as a Delegate in the Virginia House of Delegates for the state's 12th district. Hurst is also a former journalist and news anchor
Hurst began his political career after the high-profile 2015 on-air murder of his girlfriend, Alison Parker, and he has placed gun safety as one of his top legislative priorities.
Chris Hurst Age
Chris Hurst was born on July 9, 1987, in Philadelphia, Pennsylvania, U.S. He is 33 years old as of 2020.
Chris Hurst Height
Chris Hurst Wife
Little is known about Hurst's personal life however it is known that he was dating his late girlfriend, Alison Parker who was murdered in 2015 on-air which made Hurst began his political career.
Chris Hurst Salary
The annual salary for delegates is $17,640 per year and Chris Hurst receives the same amount of salary as a Delegate in the Virginia House of Delegates for the state's 12th district.
Chris Hurst Net Worth
Hurst has an approximated net worth of between $10K – $100K U.S dollars. His political career is the primary source of his income.
Chris Hurst Education and Early Life
Hurst is a graduate from Emerson College class of 2009 with a B.A. in Broadcast Journalism. Formerly, Hurst was a journalist for Roanoke's WDBJ. He became an anchor for WDBJ at 22, which the station claimed made him the youngest anchor in the country.
Chris Hurst Political career
Hurst began his political career in the aftermath of the 2015 on-air murder of his girlfriend, Alison Parker. He left his job in February 2017 and lived on his savings to run for the House of Delegates in the 12th district.
In the race, he was endorsed by Everytown for Gun Safety (the only House of Delegates candidate to receive the endorsement), while his opponent Yost had an A rating from the NRA.
He also ran on LGBT rights, education, mental health, and Medicaid expansion. During the November 2017 election, Hurst defeated Republican incumbent Joseph R. Yost receiving 54.3% of the vote. He won reelection in 2019, defeating Republican challenger Forrest Hite. During his first legislative term, he had 15 bills signed into law.
Chris Hurst Legislative issues
Environment
Hurst has worked to delay the construction of the controversial Mountain Valley Pipeline to ensure the project adheres to safety and environmental regulations and has pushed for property rights protections.
Transportation
In addition, Hurst has played an active role working with the Northam administration and colleagues across the aisle to pass a transportation package that would fund improvements for Interstate 81.
Alcohol
Hurst also helped to pass a law that flip Virginia's remaining "dry" localities to "wet." In his statement, Hurst said that the law will help businesses that want to sell liquor by the drink avoid the tedious process of getting permission from the legislature to do so, and that it will contribute to economic growth.
On 26 January 2020, Chris Hurst was pulled over by an officer of the Christiansburg Police Department under suspicion of DUI. Hurst passed field sobriety tests and, with a BAC of 0.085, which is above the legal limit in Virginia he was let go with a warning.